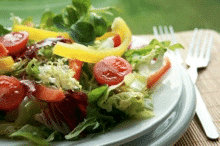 Healthy Living is a program created to help you make a real life change. We find that the greatest factor in your health is what you do on a regular basis. Many healthcare providers do not completely understand the role of lifestyle in health and disease. Fewer promote its importance. And fewer still are able to give accurate and applicable guidance on how to make such changes. At the Natural Family Health Clinic we specialize in lifestyle medicine. This is both our expertise and passion. We will walk you through a step-by-step process of making a lifestyle change so that you can achieve your goals and create a habit that will serve you for the rest of your life.
Whether you are interested in healthy weight reduction, reversing diabetes, resolving digestive complaints, balancing hormones or improving energy and stamina this program is for you. Past participants have been able to achieve all of these outcomes and more.
As a physician, I have witnessed the fundamental need to broaden and deepen our understanding of food, drink and activity as it relates to the health and longevity of ourselves, our families, our communities and world.
There is no short cut or miracle drug that will create health and wellness for us. Health is the result of the accumulation of our daily choices of how we nourish our bodies and minds.
Healthy Living is designed to help you identify the changes you need to make, create a plan to do so and support you during the process so that your new choices can become a habit. Once you establish a new habit then real progress has been made that will last a lifetime.
Healthy Living is only the beginning. Studies show that it takes a minimum of 12 weeks to establish a new habit. Beyond that point it will be a process of renewing and revising your health plan so that it continues to work for you throughout your life.
Change means change. There is no other way to become the new, healthier and happier you. Be ready to let go of some old habits and ways of thinking and be open to new possibilities of how you might be able to create the lifestyle you envision for yourself.
This is a program unlike anything else you have experienced. It incorporates the physical, biochemical, mental-emotional, metabolic and practical aspects of improving health and making a real life change. Such change is not easy, but you are worth the effort and sacrifice.
Make the commitment today to yourself and your loved ones. Become a part of Healthy Living and experience the change you are looking for!
Click here to reserve your seat at the next Healthy Living overview.